Call Us Toll Free 800-852-7852
Visit Our Other Web Site: Seminars & Peak Performance Sessions in Las Vegas
Proud Member
Las Vegas Chamber of Commerce
"One of the best shows in Las Vegas. This was really amazing, a one of a kind experience! People are still talking about it!"
BBW Event
"Comments that I received from all of our people was that it was the best show we have had in over 20 years of these meetings!"
Delta Dental
"The combination of unique intrigue, pure entertainment , and meaningful insights into one another helped us achieve a level of professional bonding like never before.
Once again, thank you very much for helping to ensure a highly successful national sales meeting for Toshiba America."
Toshiba America
"The participants were really impressed with your professionalism and showmanship."
Stanford Executive Program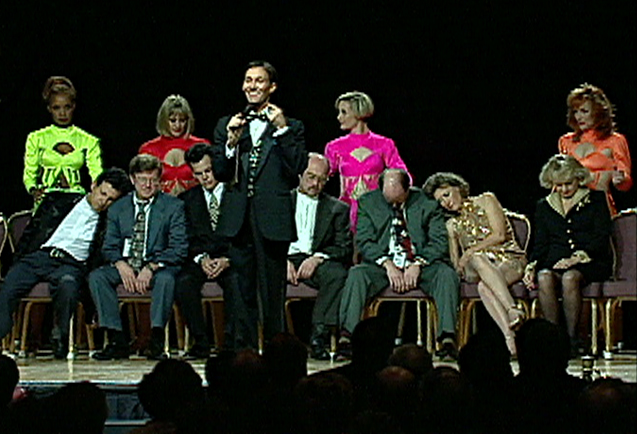 Subjects sleep in hypnotic trance.

During the show, audience volunteers are quickly hypnotized in approximately 7 minutes.
Now in it's 14th year of performances, Alexander's hypnosis show entitled "AS YOU BELIEVE" is often presented as a one man show. It is ideally suited for audiences of from 50 to 350 people. For larger productions, up to 7 dancers may be added, along with custom choreography. Special lighting and other effects can enhance the hypnotic drama and create a one of a kind , surreal experience.

Top of Page Prices & Formats Rave Reviews To Book Alexander

Often described as "the ultimate karaoke experience" , the hypnotic lip sync is one of the most popular features of the show. It highlights the talent of audience volunteers who have been hypnotized. Under hypnosis, inhibitions are lessened, so the performances are often astonishing! Costumed show-girls can be included as 'fly-girl" back up singers.