Call Us Toll Free 800-852-7852
Visit Our Other Web Site: Seminars & Peak Performance Sessions in Las Vegas
Proud Member
Las Vegas Chamber of Commerce
"One of the best shows in Las Vegas. This was really amazing, a one of a kind experience! People are still talking about it!"
BBW Event
"Comments that I received from all of our people was that it was the best show we have had in over 20 years of these meetings!"
Delta Dental
"The combination of unique intrigue, pure entertainment , and meaningful insights into one another helped us achieve a level of professional bonding like never before.
Once again, thank you very much for helping to ensure a highly successful national sales meeting for Toshiba America."
Toshiba America
"The participants were really impressed with your professionalism and showmanship."
Stanford Executive Program
An Evening of Amazing Entertainment for Corporate Events, Parties & Conventions!
Show Plans Available For Groups From 50 to 5000
Are You Looking For Something Fun & Different To Feature as Entertainment At Your Next Event?
Volunteers fill the stage as
Alexander begins his show.
About The Show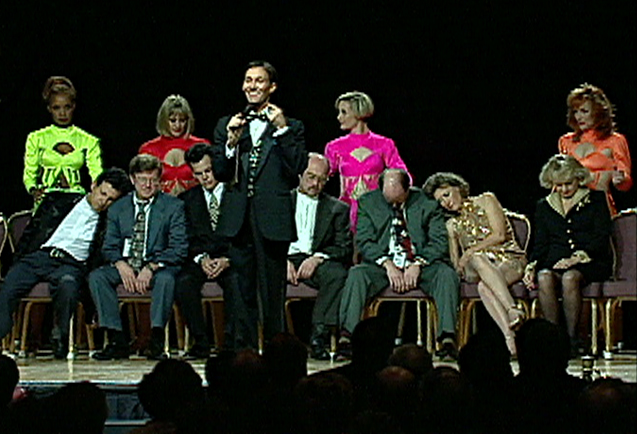 Alexander's "AS YOU BELIEVE" , is an amazing 60 minute stage hypnotism show. A favorite at conventions and company events for over a decade, the show highlights several audience volunteers who are quickly hypnotized by Alexander and put into hilarious situations as the creative power of their subconscious minds surfaces. They experience being in the hottest and coldest places they've ever imagined. They're turned into famous personalities, singers, and more, all to the delighted approval and cheers of the audience. Unlike hypnotists who embarrass their subjects, Alexander makes his volunteers shine with warmth and talent.
About Alexander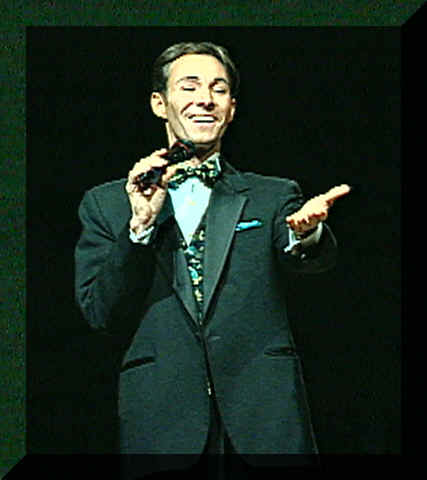 Alexander Van Buren's seventeen years of successful performances have taken him around the globe and made him one of the most sought after entertainers in America today. He's dazzled audiences on the luxury cruise ships of the Caribbean and Mexican Riviera, at the casino showrooms of Las Vegas and Laughlin Nevada and appears regularly for leading corporations such as Toshiba America, Hughes Aircraft, Delta Dental, Silicon Graphics, Phoenix Technologies, Oak Technologies, and hundreds more.
He is a trained hypnotherapist and certified master practitioner of Neuro-linguistic Programming. He teaches NLP and hypnosis related courses in Las Vegas, where he has a private consulting practice specializing in peak performance.
Alexander is in currently in demand to make appearances up to two years in advance and has been asked to return to some organizations for over 14 years in a row!
A One of a Kind, Customized Presentation
To ensure a spectacular performance and to meet the needs of both the audience and the event planner, Alexander is always happy to speak with you. He will creatively customizes his show to your unique group and event, often adding special routines built around audience members or a selected theme.
Receive A Free Video of the Show
To receive a free press kit & video, or inquire about availability, please call:
Alexander Industries Inc. in Las Vegas
5836 S. Pecos Rd. #304, Las Vegas NV 89120
Office: 702-898-7247
Office:702-315-0510
Fax: 702-456-5183
Toll Free: 800-852-7852
Alexander
America's #1 Hypnotic Entertainer
in
AS YOU BELIEVE
Top of Page More About The Show Prices & Formats
Receive a Free video To Book Alexander
©2000, Alexander Industries Inc. All rights reserved.